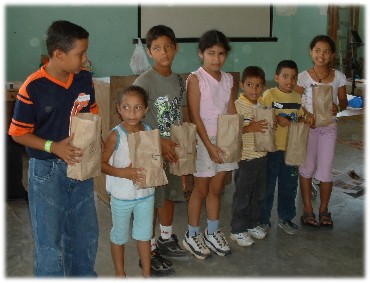 Jones Journal Monthly e-Mailer for March 2004
Dear Friends

Greetings in Jesus! If you'd like to read this e-Mailer with photos, or see past issues, click on "Ministry" at www.jonesjournal.org. This includes updates on ministry, family, praise and prayer.

The PK/GK (Pastor's kids and grandkids) Retreat had over 70 ages 5-30. Yup! Wide age span. Our team ministered with the 15 grade school age kids. We had a special Valentine's day birthday celebration for Joshef turning 8 including piñata, sweets, and even sang for both him and our dog Rookie for his 1st B-day. Rookie stayed home though.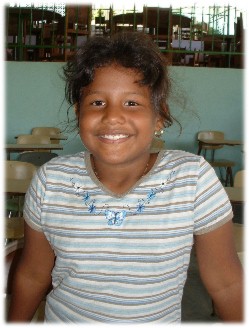 One specific prayer request would be for Maureen, pictured here, a grand-daughter of one of our ministers. I tried to emphasize how much Joseph in the Bible must have missed not seeing his father. For contrast I asked how many kids had not seen their fathers for a week, month, year... she raised her hand each time, with a sad look on her face. Afterwards I encouraged her that God is her faithful Father. Later at Talent Night she sang with poise and a very happy face. Pray for continued healing in her heart, and the many PKs and other children who suffer from fractured families.
It was my pleasure to return to the banana plantations in the NW corner of Panamá with Pastor Eloy Pimentel for another VBS. We ministered there several years ago during our first term. The church has since grown and is reaching people in several nearby communities, including some "Ticos" from Costa Rica that walk three hours to get there.

You may remember that "summer" here is what they call the dry season and it lasts from December to early March, when children return to school. It stays mostly dry through April, which we're counting on for the upcoming Crusade and Parade.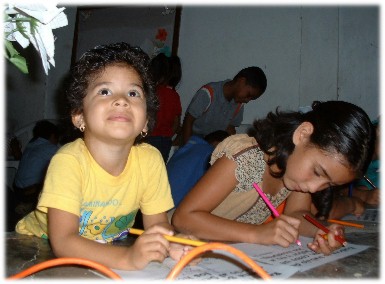 In the evening services there were about 250 adults and children. In the morning VBS there were 110-120 children—we know because we ran out of our 100 coloring pencils! They were very receptive to the story of Joseph forgiving his brothers. I guess everyone has sibling rivalry issues. They loved coloring the memory verse picture!

I normally like to get this monthly e-Mailer out on the first of the month, but I don't beat myself over the head if I don't. The past two months I've been able to include a picture of our monthly Children's Ministry Seminar. Yesterday the topic was Ministering to Street Kids.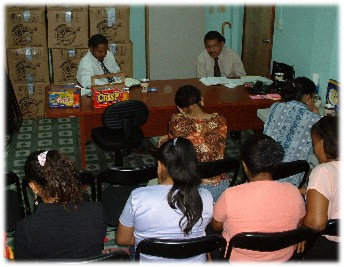 Our invited speakers, Tony García (right) and Oscar Sanchez (left), brought us to tears both laughing and crying. They first met on Coiba Island, a former penal colony for the worst felons during Panama's dictator era. Now they are reaching out to kids heading toward prison or death if they don't change. Against the wall you can see Samaritan's Purse boxes waiting for delivery to pre-selected children as a graduation gift for completing a 5-day evangelistic course from Franklin Graham's ministry.

We'll be sharing a couple nights of videos with Tony and Oscar end of this month in Vista Alegre, a red zone neighborhood of Colón. Pray that the salvation message and God's love through actions will reach these hardened children.

Tuesday through Friday of this week I'll be leading the team doing kids minstry at the Guaymi Family camp with Pastor Julio Valdés and La Felicidad church. Our friend and former missionary colleague here in Panamá, Kenton Moody, is here representing Convoy of Hope, along with two other US ministers—Berry Brown, Convoy of Hope Missionary Associate and Pastor Roy Rhodes, Kansas City, MO. Convoy of Hope provided a container of various useful donations for the Guaymi people.

We'll report on that next e-Mailer. Please remember us in prayer while up in the mountains and rivers. We're expecting about 500 children and we want them to meet with God! And don't forget Yvonne and the kids back home at the same time. Anything that breaks, be it in the house, the car, or in somebody's body, always seems to happen when I'm away.

Also remember to pray for the upcoming Citywide Parade 3 April, sandwiched in during the KidsQuest International Kids Crusade 2-4 April, and followed by the KidsQuest Childrens Ministries Leaders Seminar 5-7 April.

At lunch today Gracie was talking with Pastor Roy about SpiderMan's "spidey-sense" to know when bad things are going to happen. Gracie was quick to point out that God doesn't need "spidey-sense," because "God just knows."

Your faithful support in prayer and finance are deeply appreciated and make possible the further establishing of God's kingdom among the children of Panamá.



I know what I'm doing. I have it all planned out--plans to take care of you, not abandon you, plans to give you the future you hope for. "When you call on me, when you come and pray to me, I'll listen. "When you come looking for me, you'll find me. "Yes, when you get serious about finding me and want it more than anything else, I'll make sure you won't be disappointed." GOD's Decree. "I'll turn things around for you. I'll bring you back from all the countries into which I drove you"--GOD's Decree--"bring you home to the place from which I sent you off into exile. You can count on it.
(Jeremiah 29:11-14, The Message)



Yours for Them,


Kirk for all