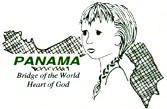 jonesjournal.org > newsletters > e-Mailer for 11/07
Dear Friends,
Greetings in Jesus! If you'd like to read past issues, click on Newsletters. This monthly e-Mailer includes updates on ministry, family, praise and prayer.

Our most recent KidsQuest Crusade was held in Santiago, with our zone Rep. Rigoberto Mitchell and our backup clown Javier providing the coordination ahead of time. We also want to thank our host pastor and presbyter Juan Murillo seen here. He ministers in one of the poorest communities on the outskirts of the city of Santiago. They rounded up kids from the nearby rough neighborhoods and packed in over 250 on Sunday alone in their small, dirt-floor sanctuary.
Here you see the visitor campaign winners Angelica, Abner and Maryori who combined to bring in 48 of their friends and neighbors to hear about Jesus! Way to go, guys! We invite you to see these three terrific kids, plus dozens more, in this month's photo album.
In last month's children's ministries leaders seminar we were ministered to by Rev. Fernando & Nancy Moyano,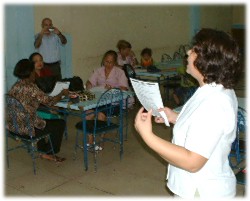 Argentine missionaries here in Panamá. Here you can see Brother Fernando in the background doing what missionaries often do -- take pictures of everything we do to let folks back "home" see what we're doing! In his case it will be sent to Argentina instead of the US. They did a great job motivating us to train children to understand and support world missions from a very young age.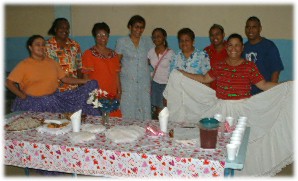 As you may remember, November is patriotic month here in Panamá. Last Saturday we had our monthly leaders seminar and a patriotic party, as you can see from the pollera skirts and bigger-than-usual spread of food for our snack! Our teaching emphasis was on Christmas, providing lesson plans and a musical program for the local children's ministries to use next month.
We appreciate you joining us in prayer for these upcoming events:
* this weekend we travel westward to Chiriquí for our next KidsQuest Crusade in Concepción, hosted by our zone Rep. Edilma de Villarreal with her husband Alfredo.
* on Saturday the first of December is the Christmas Crusade in the Yuyin Luzcando gym of Bethania. Pray for many kids to meet Jesus, the True Light of the World.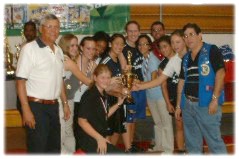 On the family front, Chloe's basketball team finished their season having played in two different leagues. In the less competitive of the two, Chloe took home the trophy for high scorer. That was nice, but what really meant a lot to her was that her team took third place in the more competitive league, seen here receiving their trophy from the sponsors, Nestle Cereal & Kiwanis Club.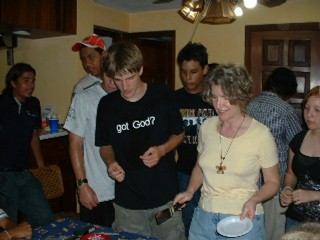 Tony's 15th birthday was last month. He had his whole class come over to celebrate. His high school basketball team won their last game of the season, which was a great morale boost for them after their first official season.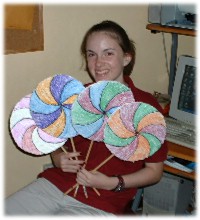 Celina put her arts and crafts talent to good use by making some props for our KidsQuest Crusades. These lollipops are used by the clowns in the skit about finding true happiness. "Ding," the boy clown, gives up his lollipop to the child who accidently drops his lollipop. Then just before leaving the stage he picks up the slightly dirty one from the floor and gives it a big lick, to the delight of the audience.

Gracie's class is reading books on animals. She chose Ralph S. Mouse by Beverly Clearly. As part of the book report she had to make a sculpture using potatoes, carrots and other food items from home. As you can see it came out pretty good. That's probably why she got an A+.
You can schedule a visit for our upcoming itineration July 08 - July 09 on our Itineration page. We'd love to see you again, or meet for the first time!
I've kept my feet on the ground, I've cultivated a quiet heart.
Like a baby content in its mother's arms, my soul is a baby content.
Wait, Israel, for God. Wait with hope. Hope now; hope always!
Psalm 131.2-3, The Message
Thank you so much for your support in prayer and finance. God bless you for it!

Yours for Them,
Kirk for all
HOME | NEWSLETTER | MEDIA | PANAMA | FAMILY | PERSONAL | TEAMS | CONTACT US | EMAIL US