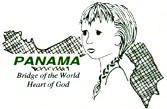 jonesjournal.org > newsletters > e-Mailer for 9/08
Dear Friends,
Greetings in Jesus! If you'd like to read past issues, see Newsletters. This monthly e-Mailer includes updates on ministry, family, praise and prayer (covering the past two months since we had computer "issues").
Hope you all enjoyed the Olympics as much as they did in Panama.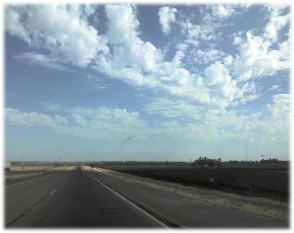 Guess why: Panama won their first Olympic gold medal ever with Irving Saladino in the long jump! We're only sorry that we missed what surely was the party of the year back in Panama.
Itineration ministry is a lot of the same--calling and scheduling services; driving or flying to services; sharing Missionary Windows, Reports or preaching in services. But one of the best parts is reconnecting with friends and family. Thanks to the people we've been able to minister with so far and share our hearts and ministry. Thanks for your prayers and financial support.
Last month we ministered in Oregon, California, Arkansas, Missouri, and back in California again. We are still scheduling dates through July 2009. Feel free to contact me or visit our itineration page online to set up a visit.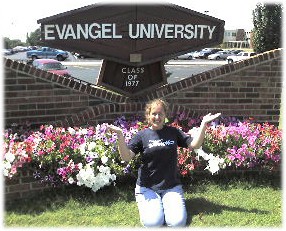 We are all slowly beginning to adjust to our new routines. Chloe is now settled in at Evangel University in Springfield, MO. We've included in this month's photo album a few of the many pictures I took so that Yvonne could see our new freshman begin her college career. Yvonne was back home in California getting Tony and Celina and Gracie into their new schools while I was alternating between Chloe and itinerating in Arkansas and Missouri.
We are relieved to say that Tony is now done going through withdrawals. He bought a new electric guitar--a Godin--and a new amp. It's beautiful and sounds great. He's also been playing basketball in the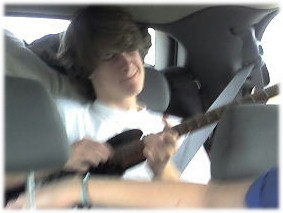 evenings as part of pre-season training at his new high school. Great exercise for him.
Celina and Tony are new kids in a big new school (2000+ students). Please pray for good connections with other Christian kids and also opportunities to share Jesus. Celina has used her latest knitting projects to be a warm blessing to Chloe. She made two different knit hats and scarves for Springfield's cold winters.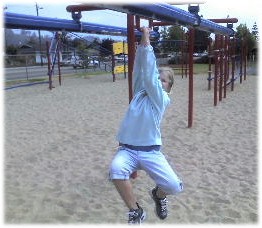 Gracie says her new playground is amazing--there's a zip line kind of ride (pictured here) that you run and jump and grab the handle to slide the length of the equipment; there's a couple of super fast spinning platforms, like mini merry-go-rounds for just one or two people at a time, and a huge football/soccer field.
In a get-to-know-each-other exercise for the first week of classes, Gracie picked as her personal slogan, "Stand up for what you believe in!" When I had to ask her to remind me of the exact phrase to include it here in this e-Mailer, she said, "it's just like the Veggie Tales song, Dad!"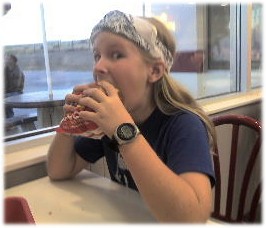 Gracie is seen here enjoying to the fullest the first bite of her first-in-many-years Double-Double hamburger from In-N-Out. It has been a Jones family tradition that the first restaurant we eat at once we finally return to California is In-N-Out. It was worth the wait!
Here's our updated contact information for this itineration cycle 7/08 - 8/09:
Mobile (primary) phone: 805.345.9720
home phone: 626.507.8044 (note: will be VoIP office phone back in Panama)
E-mail address: kirk.jones@agmd.org
Mail address: 105 Pilgrim Way, Arroyo Grande, CA 93420
Thank you so very much for your faithful prayers and financial support. We understand that many people and churches are in difficult economic circumstances at this time. A good pastor friend told us he hadn't received a paycheck for a few months, but that fact hadn't robbed him of his joy and confidence in the Lord's goodness. Likewise, we are making a conscious effort to not fret, but instead to pray for God's provision in light of these challenges.
That's why I urge you to pray for absolutely everything, ranging from small to large.
Include everything as you embrace this God-life, and you'll get God's everything.
Mark 11.24, The Message

Yours for Them,
Kirk for all
HOME | NEWSLETTER | MEDIA | PANAMA | FAMILY | PERSONAL | TEAMS | CONTACT US | EMAIL US