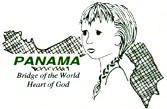 jonesjournal.org > newsletters > e-Mailer for 6/10
Dear Friends,
Greetings in Jesus!
If you'd like to read past issues, see Newsletters. This monthly e-Mailer includes updates on ministry, family, praise and prayer.
In putting together these monthly e-Mailers I feel kind of like I've slipped into a rut of repeating myself: seminars, KidsQuest Crusades, Bible school... So I'm going to leave that stuff out this issue and share some of the not so usual ministry and family stuff. Hope the change keeps us both awake!
Recent highlights:
* Annual Deacons and Lay leaders retreat. Three days of "Farm League ball" with about 400 trying to make the squad. What I mean is these are ministers-in-the-making. They are gung ho, committed, eager to please the Lord and their National Leaders. Bodes well for future growth of the Church in Panamá.
I shared a capsule on developing children's ministries in the local church along with leaders from Women's, Men's, Youth and New Convert ministries.
* Field Moderators meeting in Costa Rica. We are holding the place for itinerating missionaries Terry & Julie Bell as Field Moderators. The position is like the lead missionary on the field. Last month we met with our bosses, Jay & Nancy Dickerson in Costa Rica, along with field moderators from the rest of Central America.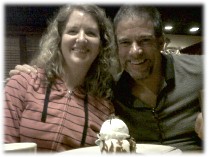 Great inspiration and testimonies. I'd classify our time as good "coaching" sessions.
Since our anniversary was that same week, we added a day and celebrated at Outback Steakhouse, with some of the other missionaries. It was good food and fellowship.
* Latest print newsletter is getting labels prepared this week. You can see it online right now. If you would like to receive the print version, which is a little different than these e-Mailers, just send us your mailing address.
* Taxes--ugh! Living abroad our tax return deadline is June 15 instead of April 15. Today I thought of some of you while reviewing our charitable contributions during itineration the first 8 months of 2009. Reading different church names brought back a smile for each different itineration memory: it made the drudgery of tax preparation actually pleasant!
Speaking of charitable donations, we sincerely appreciate the sacrificial giving of so many faithful supporters, especially those of you in places like our district of Southern California, along with many other areas, that are struggling in this economic downturn. We have noticed the effect in our work account, and are trusting God to turn it around, for both our benefit. Let's believe together the truth that God will not forget His promises, if we do our part.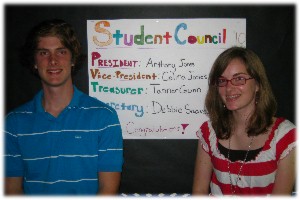 There you will look for the LORD your God, and if you search for him with all your heart, you will find him. When you are in trouble and all those things happen to you, then you will finally turn to the LORD and obey him. He is a merciful God. He will not abandon you or destroy you, and he will not forget the covenant that he himself made with your ancestors. (Deut. 4:29-31 Good News Bible)
* Chloe is taking intensive courses this summer at Evangel and online. She's also working at the Boys and Girls club near campus.
* Crossroads Christian Academy held Student Council elections this week. Allow me to present President Anthony and Vice President Celina! Anthony's first campaign promise will be fulfilled when he buzzes his hair off! Pictures definitely to follow...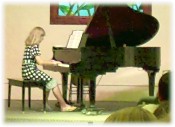 * Gracie played Fur Elise in the year-end piano recital and did a fabulous job. You can see her performance on YouTube.
Yours for Them,
Kirk for all
HOME | NEWSLETTER | MEDIA | PANAMA | FAMILY | PERSONAL | TEAMS | CONTACT US | EMAIL US