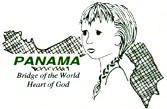 jonesjournal.org > newsletters > e-Mailer for 9/13
Dear Friends,
Greetings in Jesus!
If you'd prefer you can read this e-Mailer online [http://www.jonesjournal.org/ministry/e-Mailers/2013-09/e-Mailer_2013-09.htm], or see past issues on "Newsletter" page at www.jonesjournal.org. This monthly e-Mailer includes updates on ministry, family, praise, and prayer.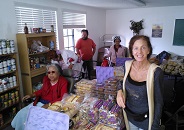 Reporting on itineration ministry can seem self-serving at times: I went to such and such a church and I shared about our ministry in Panamá and I raised funds for the ongoing work, etc. For that reason, I have tried to highlight what God is doing through many of the people and churches we meet in this process. Susan is a great example.
She bounded up to me before the service at Long Beach Cherry Carson Assembly of God (Senior Pastor: Rev. Gary Martin). With sincere appreciation to the Lord Jesus for her salvation, she shared how she had been a drug addict for over 20 years. She quickly added that she has been sober for the past 19 years! Now she serves the Lord and the church in many ways, one of them is through the church's food distribution ministry every Sunday after morning worship service. May God reconcile to Himself many more "Susans" in our communities so they in turn will perform the ministry of reconciliation (2Cor 5:18-19).

I plan to continue itineration ministry on weekends, but now that the school year has begun during the week I will be on campus at Evangel University (EU) serving as Missionary-in-Residence. The first session of Intro. to Intercultural Studies was last Thursday with 26 students, the majority of them are first year. The interest level is high. Over Friday and Saturday Yvonne and I met with past and potential leaders for the missions club, called World Changers at EU and Campus Missionary Fellowship at Central Bible College (CBC). I was very impressed with the passion for missions displayed by these leaders—most of them spent their summer in cross-cultural work somewhere around the world. We plan to hear their missionary reports in an upcoming alternate chapel service!
All summer long, I have been telling people that we are thrilled to be all six under one roof again! With nursing career (Chloe), summer jobs (Tony & Celina), friends' social calendar (Gracie), and online or seated college classes (Tony & Celina) it was a challenge to squeeze out a few days of vacation. But we did manage to spend some time in Branson and at Table Rock Lake where we enjoyed the time off together and some of the water sports!
Please join us in prayer for the following:
The print version of the Jones Journal newsletter arrived last month. If you would also like to receive the hard copy edition a couple times a year, you can send us your mailing address. We had requested prayer for the upcoming 4-14 Window Movement promotion in Panamá by Pastor Nam Soo Kim of Promise Ministries, Flushing NY. He was scheduled to share at Panamá's annual ministers retreat. Unfortunately, he was not able to attend. Nevertheless, we still ask you to continue praying with us for a movement to raise up a generation of change agents among the children of Panamá!
We also request your prayers for family transitions at the beginning of the school year: Tony began his Junior year at EU majoring in Elementary Education, minor in TESOL; Celina will be in Argentina for the fall semester studying abroad with the International Program of Pepperdine U.; Gracie began her Sophomore year of high school and continues ministering in children's church and plugging into her weekly life group meetings with good friends.

Sad news arrived from Panamá this week. Please join us in prayer as we deeply mourn the loss for the loved ones of our much-loved friend, Rev. Simón Gonzáles, Vice Superintendent of the Asambleas de Dios en Panamá. We will be praying that the Comforter will heal the wounds of their heart and soul. At the same time, we greatly celebrate the life of a great man of God and the spiritual heritage that he has left. We will miss you very much, Simón, until we meet again in Jesus' presence.
Thanks for your support in prayer and finance. As always, feel free to call or write for a coffee appointment, a Window on the World, or a full missionary service, if we are not yet scheduled. See our contact info below.
God's readiness to give and forgive is now public. Salvation's available for everyone! We're being shown how to turn our backs on a godless, indulgent life, and how to take on a God-filled, God-honoring life. This new life is starting right now, and is whetting our appetites for the glorious day when our great God and Savior, Jesus Christ, appears. He offered himself as a sacrifice to free us from a dark, rebellious life into this good, pure life, making us a people he can be proud of, energetic in goodness. Tell them all this. Build up their courage, and discipline them if they get out of line. You're in charge. Don't let anyone put you down.
(Titus 2:11-15 MSG)
Yours for Them,
Kirk for all
P.S. If you prefer not to receive these e-Mailers, or happen to receive a duplicate, simply reply "remove" or "dup" and we will take care of it.
HOME | NEWSLETTER | MEDIA | PANAMA | FAMILY | PERSONAL | TEAMS | CONTACT US | EMAIL US