jonesjournal.org > newsletters > e-Mailer for 4/2022 * [versión en Español]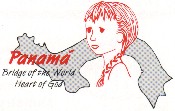 Dear Friends,


Greetings in Jesus from Panamá!
Sadly we report that Panamá's futbol fever broke last week—the national soccer team did not qualify for the World Cup.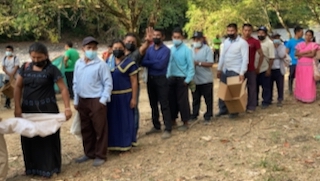 But thanks be to God! and to you for ongoing prayer and financial support we can happily report that He gives us the victory through our Lord Jesus Christ (1 Corinthians 15:57 NIV) as we continue to minister in the beautiful Republic of Panamá in the following areas: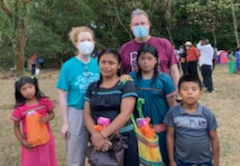 This year's Ngobe Family / Pastors Conference & distribution was limited by Ministry of Health COVID restrictions. Instead of the usual 4000+ in attendance, only 200+ pastors and wives were permitted to attend services, ministerial training and receive the generous donation. Thanks to Abundant Life Community Church and Convoy of Hope for their ongoing support of these precious pastors, families and churches among the Ngobe people. Even though we were sad the church team could not attend.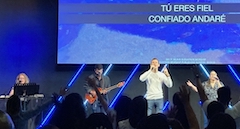 Yvonne continues music ministry on the worship team at Panamá International Church playing keyboard and singing.

Kirk continues advising National AD Kids. Next phase is training in the different zones across the Republic. Pray for our national leaders Luis & Cenit, who are like our "kids" in kids ministry (makes me feel kinda old saying that).



Later this month is Panamá Assemblies of God Annual Business Session. On the agenda are several national executive position elections—more than usual. We US missionaries are tasked with the solemn responsibility of election tallying and reporting. Please pray for God's guidance, wisdom, and for a physical touch on our current national leadership suffering serious health concerns.

For this edition Kirk provides an update on our continuing ministry with children from hard places at the transitional center:

>>We have been mentoring several children in a transitional protective center. One of them is "Y," a 16 year old mother with a two-year-old; they are from a different country. She pulled us aside after the Christmas party and asked that we pray that she and her daughter not be separated. After the lesson on Palm Sunday and Jesus' Triumphal entry, during free drawing time she calmly told me about experiences where she observed demonic oppression and evidence that she had witnessed there at the home. She said that at times one of the girls spoke with a voice that was not her own. At night she said sometimes it was difficult to sleep because she felt an evil presence in the room that she could not see.

I encouraged her to declare, "the blood of Jesus protects me," and to repeat the Bible verses we had been memorizing, and to read the Bible we had given her. I ended the conversation promising that we would pray even more fervently for God's supernatural protection over her and the other children

Later talking with "E," another 18 year old girl who previously lived in a similar orphanage setting, when I described to her what "Y" had told me, "E" reacted nonchalantly. She said, "that happens all the time in the orphanages." She added there was a place down the hall of the girls dorm building where she was housed that they had burned things on the floor in Satanic rituals.

Needless to say it just broke our hearts to hear this, especially how both girls considered it to be so commonplace where it should be such an outrage.

Last week, just two weeks following my conversation with "Y," she and her baby were no longer in the care home. They were reunited with her mother here in Panamá, which she had told me was her desire.

So please join us in fervent, continual prayer for the remaining children in the various centers around Panamá, that the blood of Jesus protect and deliver them and that the Word of God shared will bring life, joy and peace.<<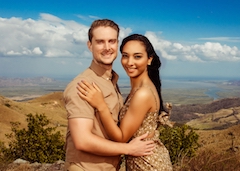 Last, but definitely not least, Tony & Paola are getting married next weekend! We are so excited and grateful to the Lord for what He has brought together.

We close with deep thanks and appreciation for your support in finance and prayer that makes this ministry possible. And we join with you and saints across the globe in celebrating our crucified Savior and Risen Lord Jesus Christ!

Praise be to the God and Father of our Lord Jesus Christ! In his great mercy he has given us new birth into a living hope through the resurrection of Jesus Christ from the dead,

1 Peter 1:3 (NIV)




Blessings!

Kirk & Yvonne


P.S. If you prefer not to receive these e-Mailers, or happen to receive a duplicate, simply reply "remove" or "dup" and we will take care of it.




HOME | NEWSLETTER | MEDIA | PANAMA | FAMILY | PERSONAL | TEAMS | CONTACT US | EMAIL US