jonesjournal.org > newsletters > e-Mailer for 9/04
Dear Friends,
Greetings in Jesus and Happy Labor Day weekend, a little early! If you'd like to read this e-Mailer with photos, or see past issues, click here. This monthly e-Mailer includes updates on ministry, family, praise and prayer.
As we mentioned last e-Mailer, last month's Children's Ministries Seminar was a workshop on creating puppets, led by Manuel Miranda. The teachers got into their crafts as if they were kids themselves, and created some puppet masterpieces. We'll move on to puppetry technique this Saturday.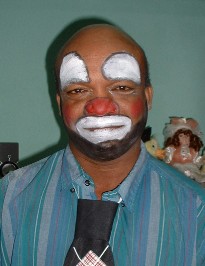 The second half of the Seminar dealt with ministering to abused and mistreated children, by Dalys de Herrera, a Christian social worker and leader in her local church. The report on the high index of abuse within the home, with step-families, and "occasional" fathers was quite depressing. We'll continue again this Saturday, but with the more hopeful theme of how to minister God's love, grace and healing to such children.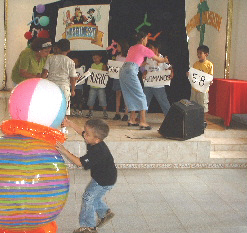 Thanks for your prayers for the KidsQuest Crusade last weekend held in Santiago, Veraguas. We appreciated the hard work and coordination of Rigoberto Mitchell, shown here "clowning around." Above are some of the precious children in "Search for Truth" (first night's theme) as they meet with Jesus at the altar.
One aspect of the Crusades we haven't highlighted before are the games. You've seen the balls in the air, but did you know when they're seriously competing, they are also learning memory verses? Hopefully you can make out the "Romanos 5:8" words the kids are holding up on stage after completing their part in the tower relay.

This Crusade's visitor campaign winner was Dayan, with the soccer ball far left. She brought 27 children who didn't normally attend church--that was our main criteria.

For both Crusade days, attendance was just under 350 kids (not counting adults) including almost 70 new visitors! Not bad for a church of about 200. Each child received a pack of tracts and also the first edition comic book (of 6 total) from the PowerMark Seeker Series. Thanks to Light-for-the-Lost, we gave the church a supply of the remaining 5 titles to continue the follow up.



On the home front, all four of our kids are now going to school all day long, since Gracie's in first grade. Celina is in fifth grade. She has Anthony's teacher from last year. Anthony is in sixth grade with a new, "really cool" teacher. They don't have "bathroom" breaks in sixth grade. It's just called "break," and you can go to the bathroom, or not. Chloe is in ninth grade, which is considered top of the middle school.

What wasn't "cool" was that our car battery had died that first day for school, so we had to take a taxi. But we still made it on time for everybody!

Celina now wears glasses, and she loves them. Says they make her look like a professor. And Gracie is now wearing a big gap--missing her two front teeth! We're hoping it will last until Christmas...
Speaking of school, today is a holiday from school and all government offices in honor of the Presidential Inauguration for Martín Torrijos Espino. Remember we mentioned how our kids don't get snow days; instead they get "riot days." This was one of them--we haven't seen any riots, though. Thank the Lord.
On this final big weekend of summer, please receive our thanks for your "Labor" of love in supporting us in prayer and finance. Wish we could invite each one of you for a backyard BBQ, grill some hot dogs & burgers, enjoy some potato salad, and relax sipping a cold drink. Imagine us there with you when you do, saying "ˇMuchas gracias!"
.... But all of you, leaders and followers alike, are to be down to earth with each other, for-- God has had it with the proud, But takes delight in just plain people. So be content with who you are, and don't put on airs. God's strong hand is on you; he'll promote you at the right time. So be content with who you are, and don't put on airs. God's strong hand is on you; he'll promote you at the right time. Live carefree before God; he is most careful with you.
(1Pe 5:5-7 MSG)
Yours for Them,
Kirk for all
P. S. re: last month's URGENT PRAYER REQUEST for AG Missionary Pilot Mike Hines, we regret to have to inform you of the following from "A/G News" (see www.ag.org):
>>
Missionary Mike Hines update
August 4, 2004
Yesterday, "A/G News" reported that A/G World Missions missionary Mike Hines was reported missing since Saturday, July 31, 2004, when his Helio Courier airplane failed to arrive in Honduras from El Salvador.
Last night, the ground crew reached the crash site in remote western Honduras, discovering the plane in pieces. Darkness halted the search for Hines. This morning, at , the crew found Hines' body. He had been flying alone in the aircraft.
Hines' wife Karen, who was in California receiving treatment for cancer, arrived in Honduras earlier today.
"It has been a difficult number of days for us all," says a somber AGWM Administrator Cary Tidwell. "Mike as a husband, father, friend and incredible voice for Christ in Latin America will be greatly missed. We ask for people to take time to lift Karen and the family up in prayer, for the Holy Spirit to comfort them and help them through this tragic loss."
According to missionary Steve Entsminger, plans are being made for a funeral in La Ceiba, Honduras, where Hines was pastor.
<<
Our prayers go out to Karen and all the family.