jonesjournal.org > newsletters > e-Mailer for 11/04
Dear Friends,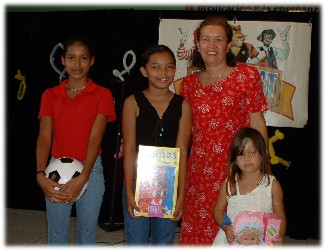 Greetings in Jesus and Happy Election Day! If you'd like to read this e-Mailer with photos, click on http://www.jonesjournal.org/ministry/e-Mailers/2004-11/e-Mailer_2004-11.htm. Or to see past issues, click on "Newsletter" at www.jonesjournal.org. This monthly e-Mailer includes updates on ministry, family, praise and prayer.
MINISTRY
KidsQuest Crusade Goes West, to Bugaba in the Chiriquí province. Pictured are Edilma de Villarreal, our Rep.,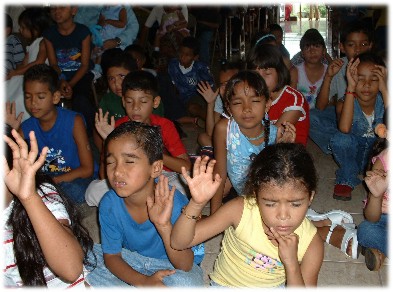 and the visitor campaign winners with their prizes. Edilma and her husband Alfredo have been good friends. She stays at our home when visiting Panamá City, and I returned the favor on this trip.
The sanctuary was almost full to capacity each Crusade service. We estimated over 300 each service, with about 75 first-timers. Some of them are seen here praying to receive Jesus.
We had car trouble on the trip out, which resulted in one mechanic praying to receive Jesus with us after hearing the gospel from our team. We rejoice that our inconvenience resulted in a blessing in this man's life.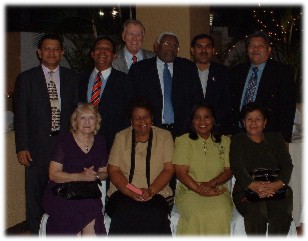 Being the only AG missionary in Panamá means I serve on our Panamanian executive counsel. So we all went to Guatemala for the triennial meetings of CELAD. It's an acronym meaning the Assemblies of God executives in Central and part of South America. Departmental directors and presbyters also attended from Panamá. The evening services were inspirational, even if the business sessions were not. It was a nice opportunity to meet ministers from several countries, and to renew friendships with the other missionaries.
I continue to serve as Bible school advisor to several graduating seniors. I paid a visit to the ministry project of Maricela Salazar, shown below with her clown partner illustrating how to "dress ourselves in humility." She pasted the word all over herself! I think the kids got the humor, and the life lesson.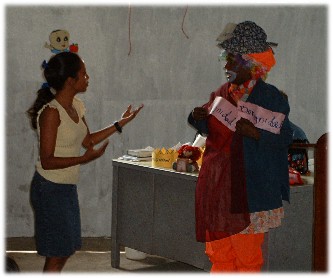 Please join us in praying for upcoming events:
* This Saturday the Children's Ministries Leadership Seminar emphasis will be Vacation Bible School (VBS). We will be training how to use VBS materials produced by AGWM's Resource and Development Ministries (RDM) -- and then giving it away in a Pesca Milagrosa ("Miraculous Fishing Contest"). That's the Christian euphemism for lottery, I guess!
* KidsQuest Crusade on 4 December with a Christmas flavor at Centro Misionero Cristiano, home church to our secretary, Carolina Canto. Pray that many children who may never receive a Christmas present, will receive the "Best Gift of All!"
* Panamá's patriotic month (yes, with 5-6 national holidays, it's a celebration and a vacation for much of the entire month of November!)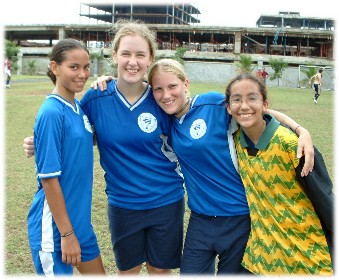 FAMILY
Here you see Chloe with a few of her soccer buddies. She's also been playing on the basketball team, competed on the debate team, and practices with the youth worship band. Ah, to have the energy of youth!
Anthony turned 12 -- officially "pre-teen" now he tells us. His classmate Fernando joined us to enjoy a giant birthday cookie, made especially by Mom. It's especially special, because it has no sugar. He and Celina are now on the sugar fast for the entire school year,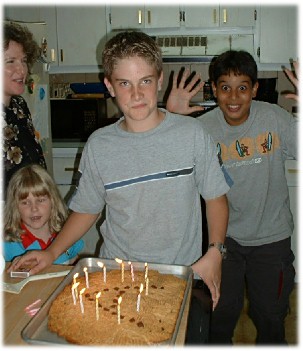 like Chloe did last year.
Last month we mentioned Celina's yard sale of jewelry and baked goods. Well, the jewelry that didn't sell, she took to a Christmas Bazaar with classmate and her mom who has a business making and selling jewelry. It was a great experience, and she made a little money.
Gracie continues to keep us in stitches. She also continues to learn, especially reading. It's been a real joy to see her and listen to her reading her own Children's Bible at night. Yvonne and I are so blessed by the Lord to have the four terrific kids we have.
Part of Daniel's prayer, and the answer, jumped out at me today:
So listen, God, to this determined prayer of your servant. Have mercy on your ruined Sanctuary. Act out of who you are, not out of what we are. (Daniel 9:17, The Message, emphasis mine)
Gabriel's answer:
You had no sooner started your prayer when the answer was given. And now I'm here to deliver the answer to you. You are much loved! So listen carefully to the answer, the plain meaning of what is revealed:… (Daniel 9:23, The Message, emphasis mine)
For each of you who support us in prayer and finance, I hope God will act out of Who He is and answer your prayer in much the same way. Know that you are much loved! By us, but much more so by our Heavenly Father. Thanks!
Yours for Them,
Kirk for all