jonesjournal.org > newsletters > e-Mailer for 3/2016
Dear Friends,
Summertime greetings from Panamá! Panamanian schools just started after December – February summer vacation. It's been sunny and dryer than normal. In this edition we'll update a few of the activities we've been involved with during this dry season.
If you'd prefer you can read this e-Mailer online, or see past issues on "Newsletter" page at jonesjournal.org. This monthly e-Mailer includes updates on our life, ministry, praise, and prayer.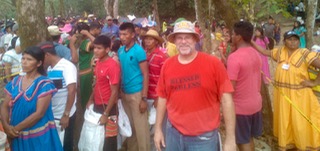 Pastor Roy Rhodes and Abundant Life Christian Center from Alton IL brought their largest team ever for the annual Ngobe Indian Family Conference. They organized the Convoy of Hope distribution of food, clothing and home supplies for almost 2000 families. This year they brought a field dental clinic for the first time, treating over 100 patients at the camp plus the LACC school in Soloy afterwards. The dentist said that some people had teeth so badly infected it could have gone into the brain and become fatal. Thank you, Dr. Ron & team!

Kids ministry leaders continue preparing for more effective ministry to the children in their communities. New people are attending our monthly training seminars. We have heard testimonies of how the training materials have given teachers much needed material to disciple and train the children in their own churches. Recent topics include:
| | |
| --- | --- |
| | · A New Vision for Kids Ministry in the New Year |
| | · Child Abuse Awareness |
| | · How to Organize Christian camps |
| | · Tech Crew Workshop: using sound equipment & multi-media presentations |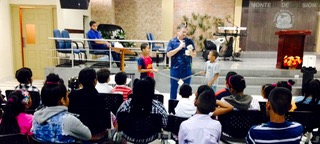 One of the more effective kids ministry teams is from the Monte de Sión church, called Semillero del Rey ("Greenhouse of the King"). They invited us to speak at their all-night vigil closing out the children's spiritual emphasis week. Pray all night with little kids? Well, not exactly. But the kids did praise the Lord with dynamic worship songs. They had a relay race game based on the Bible parable the pearl of great price. They dug for the pearl (mini marshmallow) in the field (Easter egg grass) with a plastic spoon, then ran back to hide it so their teammate could turn around and do the same thing. We all learned how priceless is the treasure of our salvation and how we must value it above all else!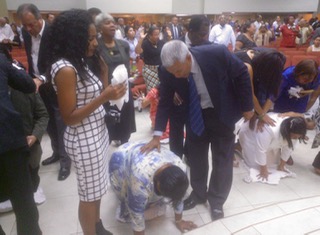 Last month was the annual ordination service. I got to anoint with oil and pray with one of the six men who along with eleven women received the maximum level of ministerial credential that the Assemblies of God offers. During and after the ceremony the presence of God was felt in a powerful way. Pictured here praying with newly ordained Pastora Diana is her husband and daughter.
Next week we welcome district missions coordinator Dan Campbell and a group of pastors from our Southern California district to minister in our local churches and to see missions project opportunities. Please pray for effective ministry results.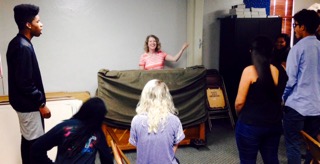 Gracie continues leading the youth group worship band. For last month's meeting she recruited Yvonne for a vocal coaching session.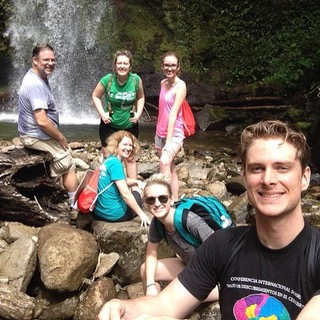 It was so great to have all four Jones kids here with us in Panamá over Christmas. Everyone is back in the swing of final semesters and work schedules. This spring we look forward to two college and one high school graduation. We invite your prayers for the next steps: Tony getting a teaching job at an elementary school; Celina deciding on and beginning grad school; Gracie starting at Evangel University.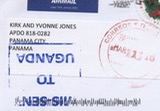 Mail gets lost or delayed in every country. But this is a missionary mail first for us: "mis-sent to Uganda"? We still appreciate the Christmas sentiment arriving now in March. If you still have our mailing address listed as a PO Box in Springfield, MO, that is closed and the forwarding order expired. Or if it happens to be anything else, please be sure and use Apdo. 818-00282, Panamá City, PANAMA. Thanks.
Through this delayed Christmas card that was re-routed through Uganda, God gave me an object lesson. Even though it took more than three months to get here, notice the hand-written verse reference we read inside:
so shall my word be that goes out from my mouth; it shall not return to me empty,
but it shall accomplish that which I purpose, and shall succeed in the thing for which I sent it.
Isaiah 55:11 ESV
God's Word will always do God's work through His people in His timing!
Yours for Them,
Kirk & Yvonne
P.S. If you prefer not to receive these e-Mailers, or happen to receive a duplicate, simply reply "remove" or "dup" and we will take care of it.
HOME | NEWSLETTER | MEDIA | PANAMA | FAMILY | PERSONAL | TEAMS | CONTACT US | EMAIL US