jonesjournal.org > newsletters > e-Mailer for 7/2020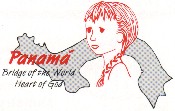 * [versión en Español]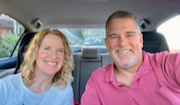 Dear Friends,


Greetings in Jesus!

Back on the road again! Praise God we can once again travel to visit churches and pastors sharing our burden for the kids of Panamá.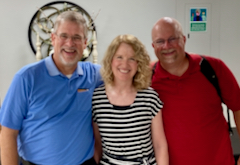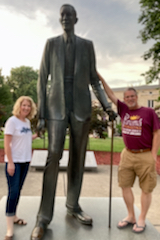 One of the first stops was Alton Illinois, which for us has been known as the home of Abundant Life Community Church, led by our good friend Pastor Roy Rhodes. Their team has ministered among the Ngobe people now for 20+ years! In fact, here is a well-done video documentary from their February 2020 trip.
We learned it is also the home of Robert Wadlow, known as "Alton's Gentleman Giant," who grew to be 8' 11" tall! He was a well-traveled ambassador of the city, active in community and religious organizations, known for his positive attitude and gentle manner.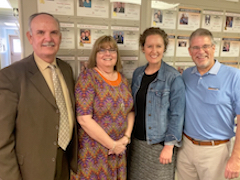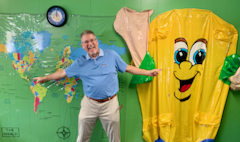 Mostly, itineration travel allows us to connect with new potential ministry partners and build bridges of relationship for future ministry opportunities together. Like our visit to Joplin MO Second Assembly of God with Pastor John & Sharon Veazey. They are faithful servants of the Lord doing a great work in southwestern Missouri.
Can you tell I'm excited how great it is that their children engage with missions, thanks to Buddy Barrel and Boys and Girls Missionary Challenge? Hat tip to Assistant Pastor Luke for kids ministry efforts and photo credits.
The second to last video episode of "Give God the Glory Story" drops soon! You can follow our social media for announcements and video link (see icons below).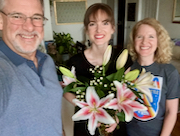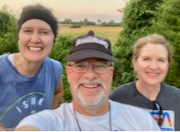 Being on the road again allowed us to celebrate Celina's birthday with her (a few days early). And be able to spend a little time with Chloe. Tony is on summer vacation while quarantined in Panamá. Gracie is preparing for her music therapy internship in the fall.


Fundraising progress report update:

* WAS: $2,000; NOW: $913 in new monthly support still needed

* WAS: $27,000; NOW: $0 cash budget lacking—PTL! Thanks to your faithfulness and generosity! Now we are "saving up" toward the $50,000 Ngobe camp infrastructure project.

Most of you should have received our summer 2020 edition print newsletter, especially all the churches in the Southern Missouri (SoMo) and Southern California (SoCal) networks. We included it with an update letter to raise the final $913 lacking in monthly support. If you would like to receive this current and future issues in hardcopy, please send us your mailing address.

We appreciate your prayers to complete the budget and for wisdom on upcoming travels. We are currently in SoMo, with tentative plans to return to SoCal in August, depending on COVID restrictions. September is somewhat unclear and for October we are mostly in SoMo. Lord willing, Panamá will open up for international travel by then, with our monthly budget fully raised, then we are on our way!




I'm asking God for one thing, only one thing:

To live with him in his house my whole life long.

I'll contemplate his beauty; I'll study at his feet.

That's the only quiet, secure place in a noisy world,

The perfect getaway, far from the buzz of traffic.

Psalms 27:4-5 (MSG)


Blessings!

Kirk_Antonio & Yvonne



P.S. If you prefer not to receive these e-Mailers, or happen to receive a duplicate, simply reply "remove" or "dup" and we will take care of it.




HOME | NEWSLETTER | MEDIA | PANAMA | FAMILY | PERSONAL | TEAMS | CONTACT US | EMAIL US